4.1 Contacts
Within "Contacts" you

have several options to browse and call your stored contacts.
| | |
| --- | --- |
| | When saving and processing personal data, observe the respective applicable legal data protection regulations. If you have any questions in particular concerning data protection regulations in SwyxWare, please contact your administrator. |
| | |
| --- | --- |
| | Personal data cannot be deleted automatically. In order to meet the valid data protection regulations, it may be necessary to delete the entries manually. |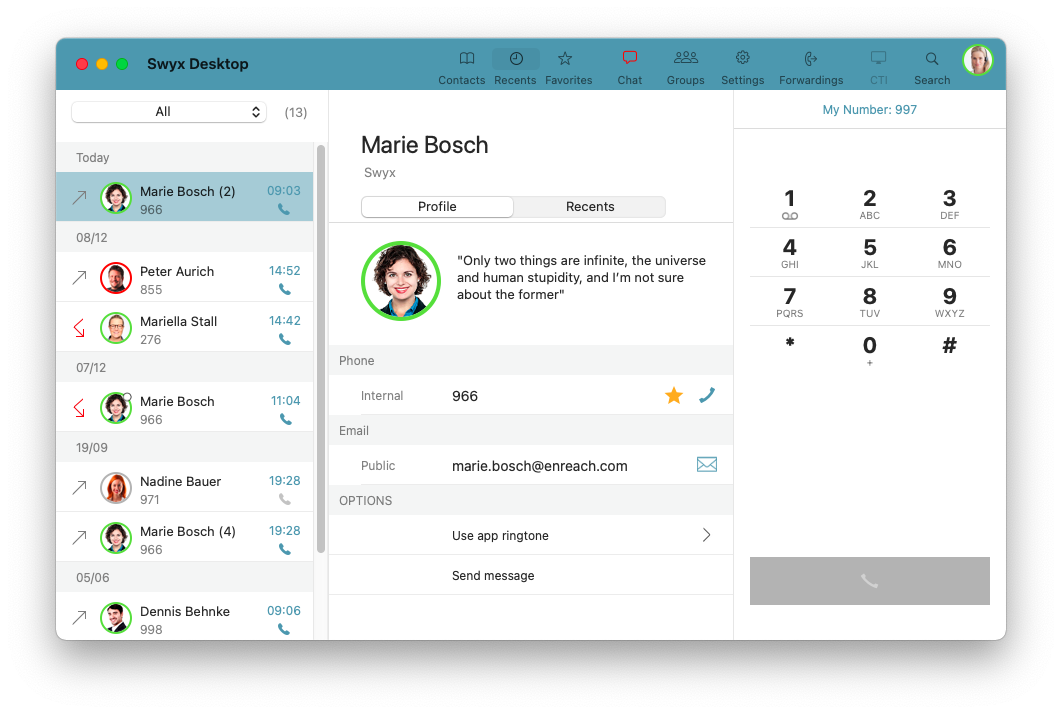 Contact list
In the contact list on the left, you see all of the contacts available from the various contact sources.
Selecting a contact source
In the dropdown menu above the contact list you can select the contact sources you would like to have displayed. You can have your Swyx contacts, your personal Apple contacts, or all contacts displayed simultaneously.

Search field
In the search field you can search your contacts by name or phone number. The search field also serves as an input field for names and phone numbers.
Contact profile
In the contact profile in the middle of the window, you can see the profile picture, the status text and all available contact information (e.g. phone numbers and e-mail addresses) of the selected contact, if stored.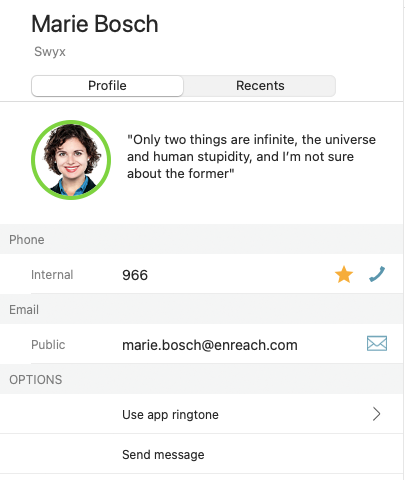 Within the contact profile, there is also the "Recents" tab, which shows a history of incoming and outgoing calls, listed in chronological order.
Data like call duration, start time etc. are displayed here additionally, in case they are available at SwyxServer. By clicking on the time, you will then receive detailed information about a call.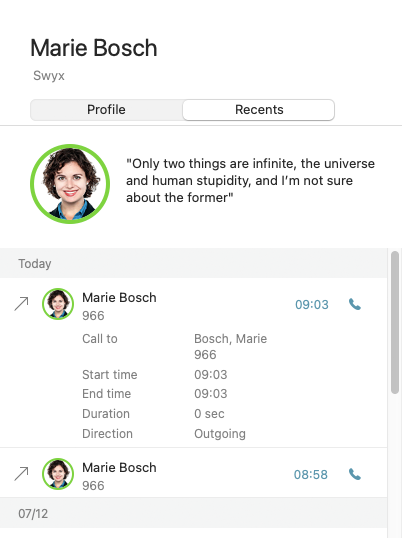 The server data for Swyx Desktop for macOS will be updated automatically in regular intervals. To manually update your contact list press the hot key combination "CMD" + "R". See also

Update the data from SwyxServer manually

.
Last modified date: 12.22.2021