8.2 Selecting a contact source
You can individually select which contact sources you would like to have displayed in your contact list.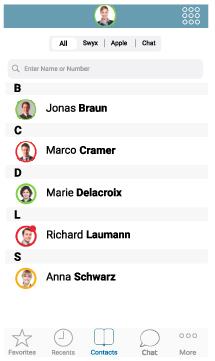 To select your individual contact list 
1
Tap into the search field above the contact list.
A list with all available contact sources appears:
Contact source

Description

All

The contacts from all sources are displayed in alphabetical order.

Swyx

All contacts registered on your company's SwyxServer are displayed.

Apple

All of your iPhone

Contacts

are displayed.

Chat

All contacts with whom you can exchange text messages are displayed.
Last modified date: 03.08.2022